Benefits
With EcoTank, you don't have to stop working. Save time, energy and money with EcoTank.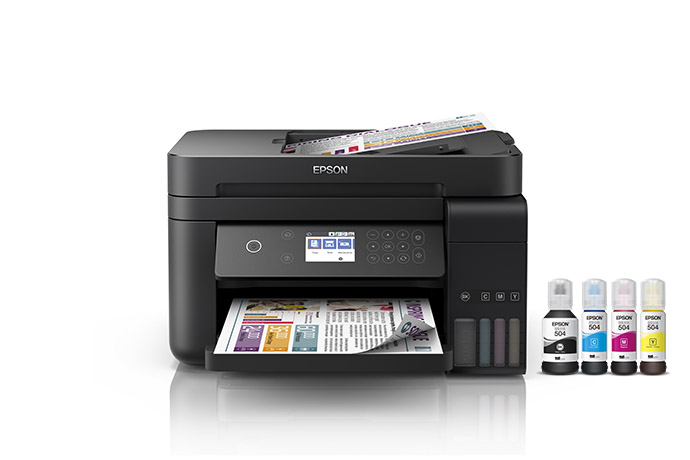 EcoTank L6171
The wireless multifunctional EcoTank L6171 gives you the revolutionary cartridge-free printing, with newly designed front-facing tanks, bottles of ink with a keyed and automatic system for easy filling of each color. In addition, the EcoTank L6171 allows you to print up to 7.500 pages in black² or 6.000 pages in color².
* Epson ink tank units sold worldwide as of July 2019.
1. Savings comparison based on the cost of purchasing replacement ink bottles and the cost of enough cartridges to achieve the bottles' total page yield, using the internet prices of the main multifunctional manufacturers and the yields of the highest capacity cartridges for consumer inkjet printers sold in Latin America and with similar characteristics and prices of $150 USD or less, according to industry data sources as of July 2016, in the last 12 months.
2. Some of the ink from the included bottles is used for the initial setup, so the yields are lower than those of the replacement ink bottles. Yields of replacement ink bottles based on ISO / IEC 24712 pattern using Epson methodology. The performance of these products may vary considerably for reasons including printed images, print settings, temperature and humidity. Yields may be lower when not printing frequently or when printing mostly with a single ink color. All ink colors are used for printing and for the printer maintenance. For more information, visit www.latin.epson.com
3. Estimate of 35 cartridges sets based on the print yields of black and color replacement ink bottles compared to the standard capacity ink cartridges, for cartridge printers with similar characteristics from the leading manufacturers as of July 2017 .
4. Energy savings compared to the best-selling A4 laser printers and MFPs (1-20 ppm ISO color and 1-30 ppm mono) in Latin America, with prices up to USD499, as of September 2017, based on the energy consumption specification in the manufacturer's operating mode. Exact energy savings will vary based on product usage.